Special Containers for Transporting Medical Waste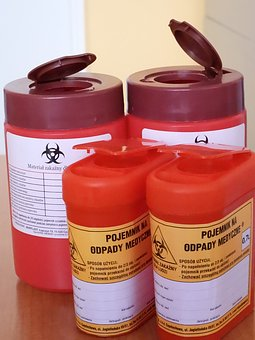 With the COVID-19 pandemic that affected the entire world and changed our lives, another problem arose, the disposal of medical waste. Disposal of medical waste has long been a problem in hospitals, but the pandemic made this issue more evident.

Why Should Medical Waste Be Transported in Special Containers?
Medical wastes, especially those used in hospitals for medical procedures, should not be thrown in trash cans. These wastes might be hazardous, and their improper disposal might cause the spread of diseases or violations of state and local laws.

Some of the wastes contain bodily fluids like blood, which can promote the spread of diseases. What's more, other wastes contain chemicals that can lead to poisoning, organ damage, or even congenital disabilities. Thus, medical wastes must go in special medical waste containers.

Waste Items to Dispose of in Medical Waste Containers
Biohazard wastes also come in three categories like solid waste, liquid waste, and sharps waste. The waste items that should be disposed of in medical waste containers include:
• Items that are contaminated with bodily fluids like blood
• Drugs and medicines and other pharmacological wastes
• Isolation and microbiological waste
• Parts of animals and human anatomy like body parts, organs, teeth, hair, nails, etc.
• Animal parts or remains that are used for experiments and research.
• Sharp wastes like needles and razors

However, not all medical wastes go to these biohazard containers. Items that should not be disposed of in regulated waste containers include:
• Diapers
• Soiled lines
• Garbage and trash
• Urine and feces
• Manure
• Dialysate

Conclusion
Medical waste can potentially harm health and the environment when not properly disposed of. That is why healthcare facilities should take stringent measures to ensure that these wastes are collected and discarded using the right methods. The containers should then be properly sealed for transportation.