Sharps Safety in the Diabetic Community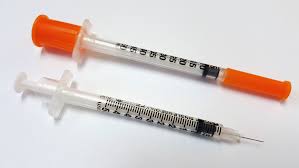 There are over 30 million people in the US who have diabetes. (That's nearly 10% of the population.) This means that enormous volumes of needles, lancets and other sharps are generated in the course of their care. It's important that diabetics are trained how to safely dispose of sharps and other regulated medical waste.

Studies have shown that one in ten diabetics throw their needles away in normal trash cans when they aren't at home, and one in six routinely throw their needles in their household garbage cans. This poses a serious risk to those in the house, garbage disposal workers and others. This practice points to a lack of knowledge and safe, easily accessible secure disposal solutions.

There needs to be provision of specially designed sharps containers to facilitate safe sharps disposal. The containers must be puncture resistant, leakproof and sealable with a tightly fitting lid. There also need to be convenient pick up and drop off points for the containers. This will all go a long way towards the safety of the diabetics themselves, their families and others. It will reduce the risk of needlestick injury and exposure to bloodborne pathogens.