Tackling the Opioid Crisis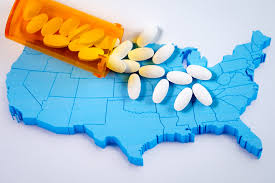 Almost 150 people die every day in the US from an opioid overdose. The abuse of opioids has become a national crisis that costs lives as well as over $78 billion a year. This includes the cost of lost productivity, treatment for addiction and healthcare.
Many Americans keep their leftover prescribed medicines because they aren't sure what to do with them or for "just in case." Ten percent of these people have at one time or another offered them to family or friends for medical or recreational use.
A solution to this is "seal and send" envelopes or drug take-back kiosks. Consumers can send their unused medicines back at no cost to themselves. Once received, the drugs are then safely destroyed. This goes a long way to preventing opioid abuse. It also prevents contamination of groundwater and soil which occurs when drugs are flushed into the sewage system or thrown out with the regular trash.
There are also waste service businesses specifically for hospitals. Their services include supplying containers that deactivate the waste medication on contact. This prevents the retrieval of the disposed medication by unauthorized persons. Certain waste service providers also offer the incineration of pharmaceutical waste to curb the negative effects on the environment. Healthcare organizations can thus securely dispose of opioids and help to keep dangerous drugs out of the community.